Fruit Packing Facilities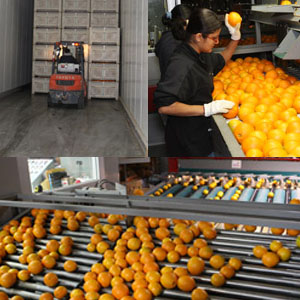 Bravante Produce fruit packing house and cold storage facility are situated on 12 acres of land in the heart of the San Joaquin Valley, commonly known as the "World's Fruit Basket." Our location, situation, and attention to detail ensure the best quality in everything we deliver. Bravante Produce Agricultural properties are strategically placed throughout the Valley allowing us to pick different regions at slightly different times for peak maturity. Fruit is monitored daily from bloom to picking time, keeping an eye on maturity, size and general appearance. In addition, tree health and viability are strictly monitored by our farm management team.
Save
Save
Save
Exceptional Staff
Bravante's supervisory staff bring several lifetimes of experience in everything from the fields to the factories when it comes to the produce business. They are committed to bringing together the best people in the industry and dedicated to providing a successful experience for our clients and the community.
Save
Save
Ken Collins
General Manager
As General Manager, Ken Collins oversees the Harvesting along with the Processing of Citrus at Bravante, along with the receiving and Shipping of Grapes, working hands-on with everything from overseeing plantings and evaluating crops to coordinating with the sales department. With over 40 years of experience in the Citrus industry, along with being a grower himself, Ken brings exceptional hands-on experience and dedication to his job, assembling the right people for the best results, and taking great satisfaction from watching produce make its way from orchards to packing to shelf and table for all to enjoy.
Ken Collins
Tel: (559) 638-2929
Tina McAndrews-Cochran
Cold Storage & Shipping Manager
Tina oversees all aspects of Shipping, Receiving and Storing for Bravante Produce and their Partner Growers. Nearly three decades of experience in the industry has given her an in-depth knowledge of what it takes to ensure efficiency between the departments she manages as well as inter-departmentally within the Company. Tina's goal is providing all customers with an exceptional quality product, and she accomplishes that goal by maintaining efficient and effective processes for all products that comes through her facilities.
Tina McAndrews-Cochran
Tel: (559) 638-2929
Miguel Perez
Plant Supervisor / Food Safety Manager
As Plant Supervisor, Miguel Perez oversees all aspects of production at Bravante, coordinating with other departments such as maintenance, receiving, sorting, fruit packing & bagging. With more than three decades of experience in the industry, he's been with Bravante since the first day fruit was processed in their facility, is also responsible for the Food Safety program for the Packing and Cold Storage Facility, and still thrives on the constant challenges and never-a-dull-moment days his work delivers.
Miguel Perez
Tel: (559) 638-2929
Lucio Mata
Field Logistics Specialist / Food Safety Manager
Lucio Mata grew up in the industry, first working at a packing house, then moving on to become an inspector for the USDA, before finally joining Bravante more than a decade ago. Now, as a Field Logistics Specialist, Lucio oversees more than 2,000 acres as he evaluates quality and conditions for both domestic and export crops each season, manages pruning, coordinates harvests, projects yields, and as Food Safety Manager for the ranches and farms, ensures the best in quality for each harvest.
Lucio Mata
Tel: (559) 638-2929
Facilities Overview