Food Safety and Food Security at Bravante Produce is an integral part of our business strategy. It commits us to operate in a way that best assures that the produce received, packed and/or shipped from our facility was produced in a way that substantially minimizes the chance of any contamination of the product.Our Food Safety Manager is dedicated to ensuring that Bravante Produce food safety practices are strictly adhered to throughout our operations. To ensure we are in line with all food safety certifications, we rely on
PrimusLabs
to audit our facility and fields.  PrimusGFS is a
Global Food Safety Initiative (GFSI)
benchmarked and fully recognized audit scheme covering both GAP and GMP scopes as well as food safety management systems (FSMS).
Bravante Produce uses personal bar codes specific to our products through GS1 Bar Code and Identification Keys. With these unique bar codes and identification numbers, retailers can identify and track our fruit. The GS1 system provides for the use of unambiguous, globally unique numbers to identify goods, assets, and locations worldwide.
We strive to operate at the highest level in all aspects of our business. Through the use of good manufacturing practices, continuous training, and strict record keeping, we know that we are doing the right thing for our employees, customers and community by providing wholesome products from a safe and clean work environment.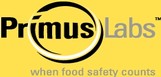 Food Safety